---
Experience the speed and satisfaction of magnetic charging...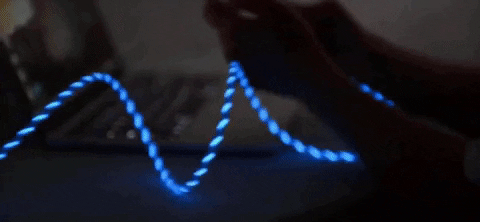 Features
Spiralling LED Display - a mesmerising array of LED lights flow smoothly through the cable
Charges Every Device - each cable includes a Micro-USB, USB-C and Lightning connector, meaning it is compatible with every single mobile device on the planet
Magnetic connection - simply plug the magnetic connector into your device and let the cable snap to it to begin charging
4x Faster charging - fast charge 2.4A technology is capable of charging over 10% every 5 minutes! (based on an iPhone 8)
1 Year guarantee - if your cable breaks within 1 year of purchase, we'll send you a replacement free of charge
1 Year Guarantee + Free UK delivery with every order. Just click add to basket to get yours now!
*Get up to 20% off when you buy more than one*
Description
It's crazy isn't it - we're in 2021 with self-driving cars, artificial intelligence and blockchain technology, yet we're still forced to put up with the dull, black or white charging cables that break easily and barely charge your phone.
Not anymore...
Our 3-in-1 magnetic LED charging cables feature a vibrant LED display, can charge any device and have been thoroughly selected, tested and tweaked to ensure premium quality and everlasting durability.
We've all been left in awe when watching those oddly satisfying videos, so why not make your dreams come true and experience the satisfaction of magnetic charging...
Just plug the magnetic connector into your device and watch as the cable seamlessly gravitates towards it and snaps on to begin charging.
The ultimate upgrade for any gaming setup, bedroom or office space.
Better yet, every cable includes 3 magnetic connectors - Micro USB, USB-C and Lightning, meaning you'll never need to buy a separate charger for all of your devices again.
Our cables are also integrated with 2.4A fast-charge technology, which allows for up to 4X faster charging (over 10% charge every 5 minutes on an iPhone 8!).
We're so confident in our 3-in-1 magnetic LED charging cables, that we're offering a one-year quality guarantee on all orders so you can enjoy a risk-free charging experience.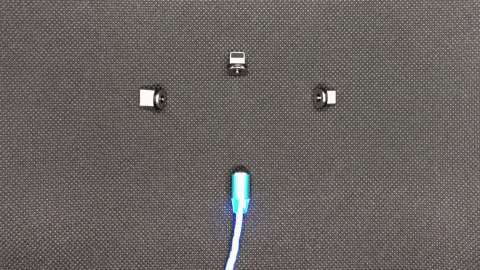 Specifications
Cable Length:
1m, 2m
Colour:
Red, Green, Blue
Compatibility:
All Mobile Devices - iPhones, Android Phones, Smartwatches, Tablets, Xbox and Playstation Controllers, Portable Speakers and more...
Charging Speed:
2.4A Fast Charge
Package Includes:
1x LED Charging Cable
3x Magnetic Connectors (Micro USB, USB-C, and Lightning)
1x User Manual
Guarantee:
1 Year Cablenova Guarantee
Delivery:
Free UK Delivery
Worldwide Express Shipping
Returns:
Free 30 Day Returns Policy
Great product one of the best charging cables I've ever used and as a star wars fan the green led cable is great.
Super quick delivery and very impressed with my purchase. I love the different attachments and I love that the cable glows! I previously had a fake Apple one and I'll never go back. 100% recommend Cablenova!
Very fast delivery and the charger is so cool. The magnetic end is such a good added bonus as your charger port doesn't get messed up from pulling it in and out.
Back then I would sit there with my awfull Samsung charger, doing about 1% in 2 minutes, And one day I was scrolling through Instagram and I noticed something called CableNova, I had a look at there website, The charger they did looked really cool I must say, I bought it for £15, When it came through the mail, I plugged it into my IPad, And it the LEDs were Amazing, It charged Super Super Fast, I had never seen such a cool charger, Over all I say they do some AMAZING chargers, You have to get one yourself