---
Now they'll DEFINITELY see you rolling...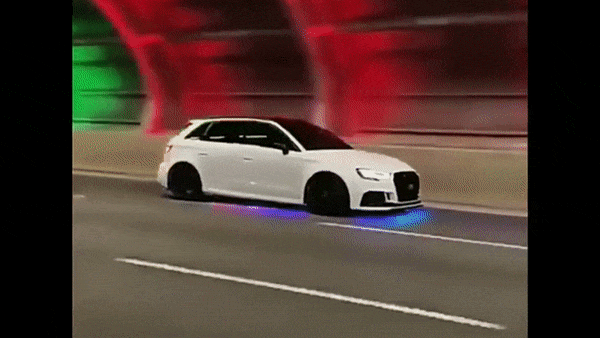 Features
App-Controlled - every colour, effect, style and mode can be fully customised from inside the car, with just a tap of your screen.
Ambient Lighting - match your mood with over 16 million colours and endless effects to choose from.
IP68 Waterproof - no amount of rain or fog will come close to damaging the LED strips.
UK/US Street Legal - only when installed correctly, with no exposed LEDs, and on a static colour mode when driving. You must still check your country's/state's laws before installing - this is not legal advice.
Sound-Sensitive - the underglow strips can be set to react to the car's music.
Easy installation - just stick the LED strips to the underside of the car and fix them on with the included cable ties, buckles and screws (optional).
1 Year Guarantee - if this device breaks within 1 year of purchase, we'll send you a replacement free of charge.
The Cablenova UnderGlo™ is arguably the most functional LED strip for car exteriors currently on the market, with over 16 million colours and a wide range of effects to choose from, all controllable with a free mobile app.
When installed & used correctly according to your jurisdiction's applicable laws/restrictions, our LED underglow kit is 100% street legal and should not cause you any trouble when on the roads. Of course, we are in no way qualified to give you legal advice, so please do your own research on your state's/country's laws before installing this product.
Rain? Wind? Fog? Not a problem! Our car underglow kit is IP68 Waterproof rated and can withstand even the harshest of natural elements.
To ensure you get the most out of this kit, we'd highly recommend that you install the LED strips with the included cable ties, buckles and screws, so that even if the adhesive wears off, your LEDs will stay fastened on.
As an added bonus, you can even set the lights to react to your car's music through the included mobile app.
If you have any questions about this device, please feel free to contact us by email at contact@cablenova.com. Our 24/7 support team are always on hand to help you out wherever possible!
Specifications
Brand: Cablenova
Power Output: 10W
Voltage: 12V
Colour: RGBW
Size: 2x 60cm strips & 2x 90cm strips OR 2x 90cm strips & 2x 120cm strips
Lifetime: ~100,000 hours
Weight: 0.6kg
App Compatibility: Bluetooth (Android and iOS devices)
Waterproof Rating: IP68
Car Model Compatibility: Universal
Certification: CE